Magnetometry is a technique that uses information from the Earth's magnetic field to investigate subsurface structures. The terrestrial magnetic field induces in the rocks and geological structures a secondary magnetic field, which overlaps or opposes the main field. These modifications of the magnetic field can be analyzed to investigate the sources that cause the anomalies.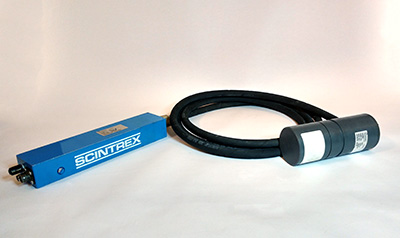 This is a quick and efficient method of acquisition and processing of data, which can be used effectively in conjunction with other geophysical methods for the evaluation of mineral exploration targets.
Search for metallic minerals, which normally present a contrast of magnetic susceptibility suitable for geophysical investigation.
Determination of regional parameters of average depth of magnetic sources for modeling sedimentary basins and structures.
Request a quote now for your mining or oil prospecting research.
Specifications:
Measurement Range 15,000nT to 100,000nT
Orientation Range
Northern Operating Hemisphere Sensor optical head axis 10° to 85° to the ambient field direction
Southern Operating Hemisphere Sensor optical head axis 95° to 170° to the ambient field direction
Heading Error
+/- 0.2nT inside the optical axis to the field direction angle range 15° to 75° and 105° to 165°
Gradient Tolerance 40,000nT/meter
Outputs
a) Larmor frequency = 3.49857 Hz/nT (gamma) modulated on power supply voltage.
b) Larmor frequency square wave at the I/O connector.
Information Bandwidth Only limited by the magnetometer processor used
Operating Temperature -40°C to +50°C (-40°F to 122°F)
Humidity Up to 100% splashproof
Supply Voltage 24 to 35 Volts DC
Supply Current
Approximately 0.8A at start-up, decreasing to 0.5A at 20°C, larger at lower temperatures
Power Consumption 15W at 20°C, more at lower temperature or during warm-up
Warm-up Time Approximately 15 minutes at -40°C
Control of the Operating Hemisphere
• Automatic
•Manual (front panel switch)
•Remote control by the voltage level
Sensor Head Diameter: 63mm (2.5") and Length: 160mm (6.3")
Weight 1 kg (2.3 lb.)
Sensor Electronics Dimension: 280 mm x 53 mm x 38 mm
(11 x 2.1" x 1.5")
Weight 0.6 kg (1.33 lb.)